Forest Authors' Festival (Friday and Saturday)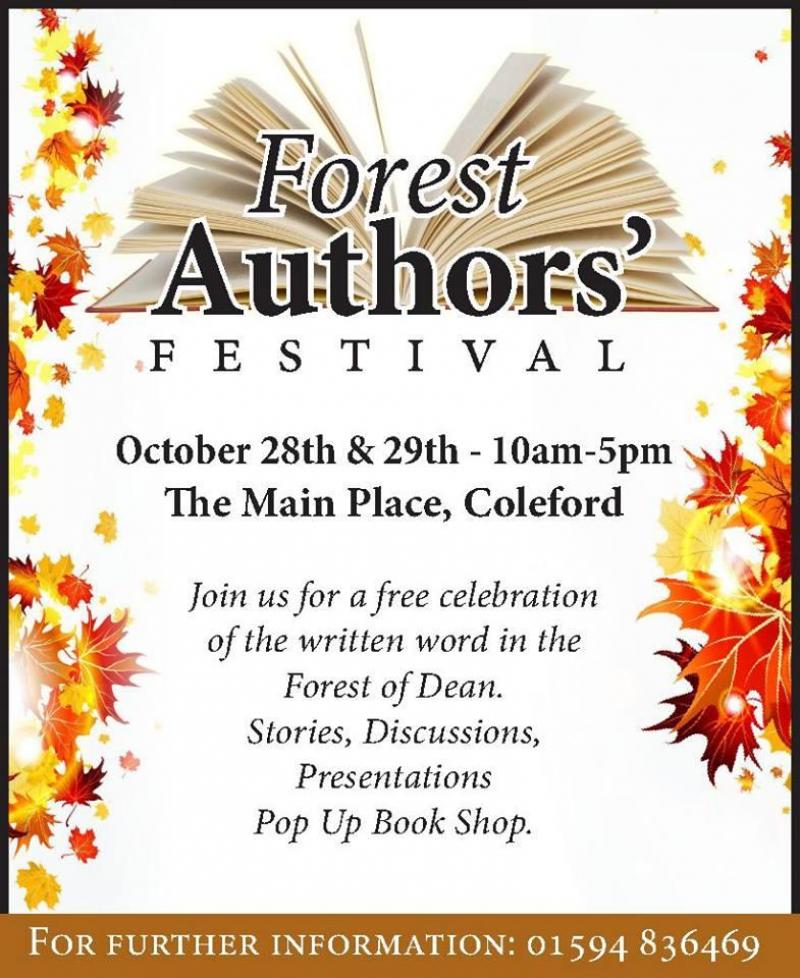 FOREST AUTHORS' FESTIVAL
Since the closure of the Forest Bookshop in Coleford there has not been a local retailer where local people can browse and find the latest books from local authors.  The Forest of Dean is well known for authors, past and present,
 who have contributed so much to our local culture.
The brainchild of Felicity Edwards, Chairperson of the Dean Writers Circle and Janet Marrott of the Coleford Area Partnership, the first ever Forest Authors' Festival is to be held on Friday 28th and 29th October. This will be hosted by the Coleford Area Partnership and held at The Main Place in Coleford.
There will be Pop-up-Shop for local authors to display their publications and give the public chance to interact with them. There will also be opportunities to meet people who write for a living, whether as a screen writer or a ghost writer, who will be able to explain how they became involved in the work they do. In addition it is intended to hold and film interviews with writers and put the resultant videos out through social media for people to learn about them on the internet.
Children will be catered for with creative workshops and there will also be story-telling sessions in Coleford Library.
The Dean Writers Circle ran a creative writing competition earlier in the summer and the winners of the various categories were invited along to the recent performance of a play from local playwright, Carol Sheppard, at Lydney Community Centre.  Children from all forty five primary schools within the Forest of Dean area were invited to take part and St. Briavels School excelled in the number of entries from their pupils. It is hoped that the winners of the various categories of the competition will be prepared to come along to the Main Place and read out from their own work.
The results of the Broadwell community event held in July will be on show, giving an insight into the lives of people around the area.  Stories of life over the years are captivating and will hopefully encourage readers to write about their own families.
Authors are very welcome to contact the Coleford Area Partnership at The Main Place to express interest in getting involved in this event.  There will be no charge made to bring their work along to the Pop-up Shop and light refreshments will be available on both days between the hours of 10.00am and 5.00pm.
To contact the Coleford Area Partnership email info@main-place.org.uk or telephone 01594 836469 between 9.00am and 1.00pm Monday to Friday.
Alternatively, write to the Coleford Area Partnership at Office 7, The Main Place, Old Station Way, Coleford, Glos. GL16 8RH.