Explore Coleford, the birthplace of modern steel by following a 7 mile route around this historic market town. Just a group of cottages in 1275, Coleford is now one of the Forest of Dean's main towns. Discover Coleford's rich history through 
Then and Now
 images at 31 points of interest. Learn how Coleford was once at the forefront of the developing national iron and steel industry. Shorter routes and routes avoiding inclines are optional.
The map shows selected places of interest and your location is tracked by GPS (no phone signal required on route). When near a place of interest the GPS triggers a "You have discovered..." message showing you where you are.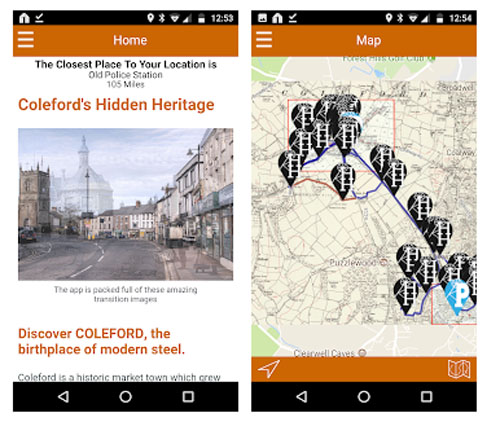 Download the app from Google Play here or iTunes here. 
This video explains a little more about the Apps and how they function:
Darkhill Iron Works
Whitecliff Furnace
Angus Buchanan VC Recreation Ground